Pick one of the WIP pieces you've stitched on this month, and tell us about your stitching journey with the piece.
Well, the piece have been working on the longest is the Hogwarts Crest. It is a free chart that I found on the internet. It is intended to be used for my daughter's 11th birthday party. You can tell I haven't cross-stitched in a few years by all the mistakes I am making with it. My daughter just turned 9 years-old, so I have 2 years to finish this in. Actually I'll hopefully finish the stitching before we move back to the U.S., fold it up until after we move and then have it finished.
Here is where I got to before on the Hogwarts Crest: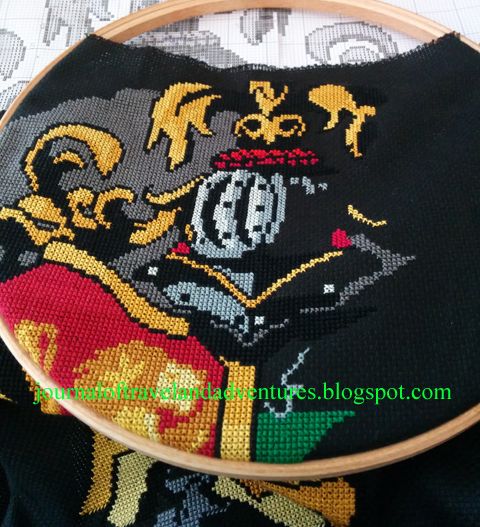 Here is where I am now: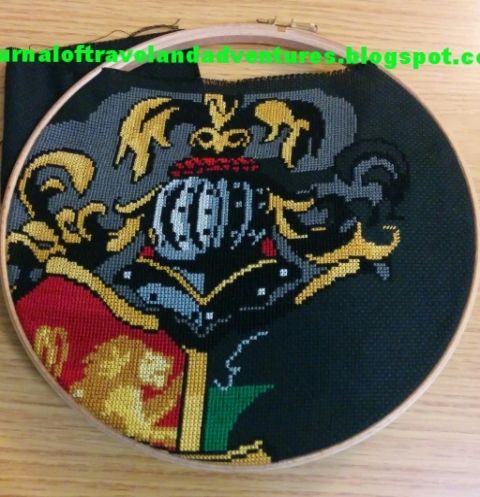 I didn't get a whole lot done, partly because my Mom was visiting for two weeks, but also because I went and got an embroidery frame kind of like this:
It was supposed to be for the Hogwarts Crest, but...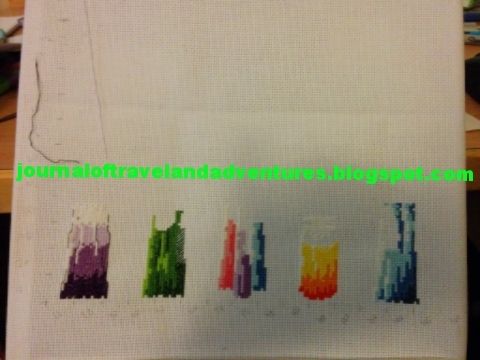 This is노리개 (Norigae) it is a chart by a Korean cross stitch company called
SODA Stitch
. I think the easiest way to get their charts is through their
ebay store
, but they also have other distributors listed on their website.
The new scroll from is so stiff I haven't even put the nuts and bolts in.
I also happened to take some pictures of the Leeds Tapestry 2000 exhibit in the Leeds Central Library this month. The Central Library has some wonderful architectural designs. Each tapestry has a little plaque that tells about that tapestry.
This one is about
Civic Pride
.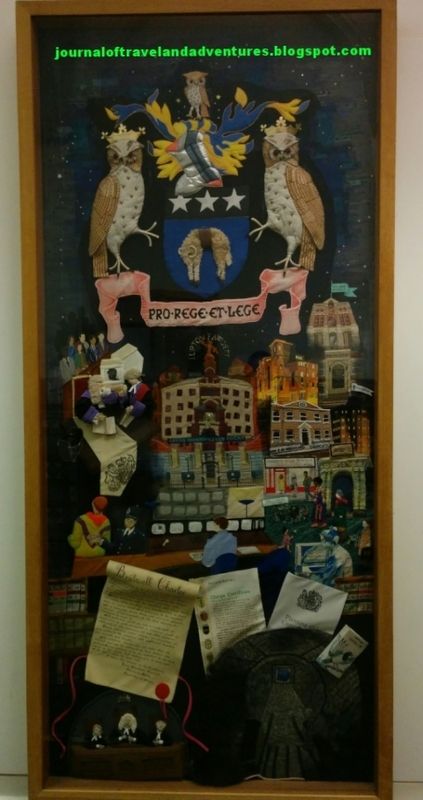 The Legal Sector
.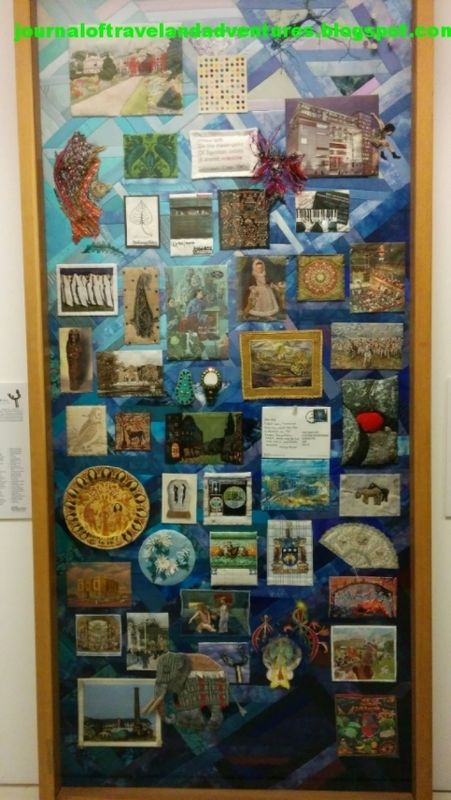 Arts For All
.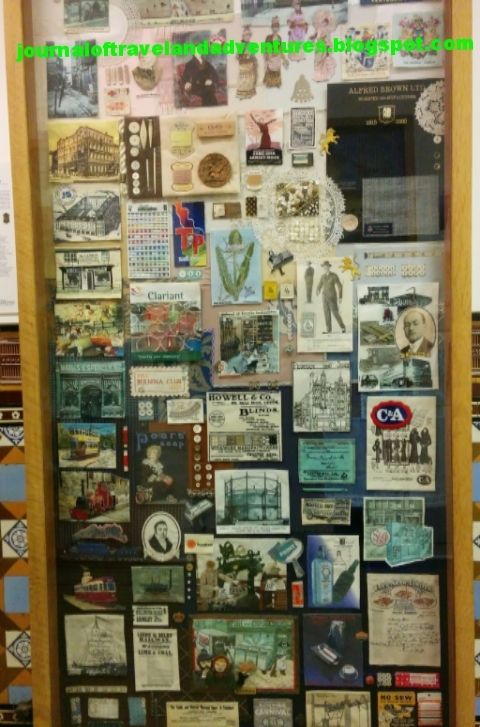 Textile and Industrial Heritage Panel
.
Here
is a better look at the skeins of loss on the tapestry.
This
webpage explains more about the tapestries.
I also got another magazine.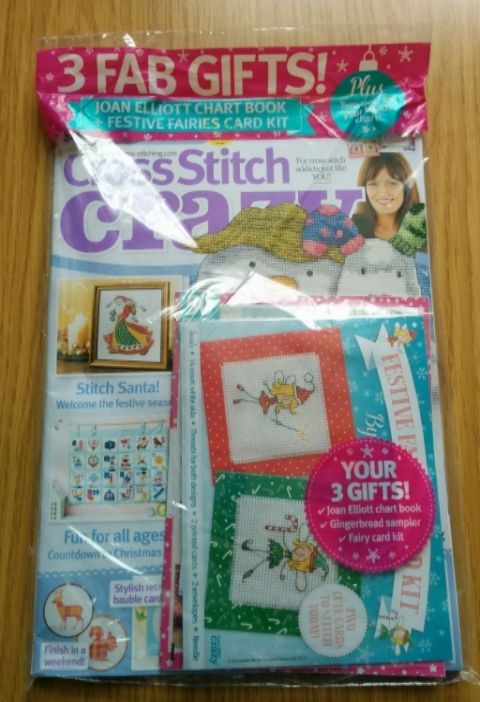 I really think that I like getting the magazines with kits in them. It seems to make it feel like it's worth the money, since the magazines without the kits are about the same price.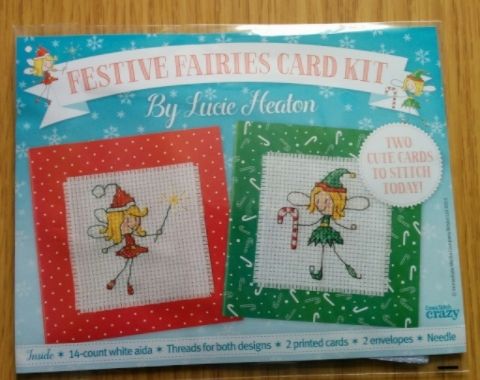 This magazine came with two Christmas fairy cards. The cards aren't very big, about 3.5 inches by 3.5 inches, so I expect them to be a quick stitch up.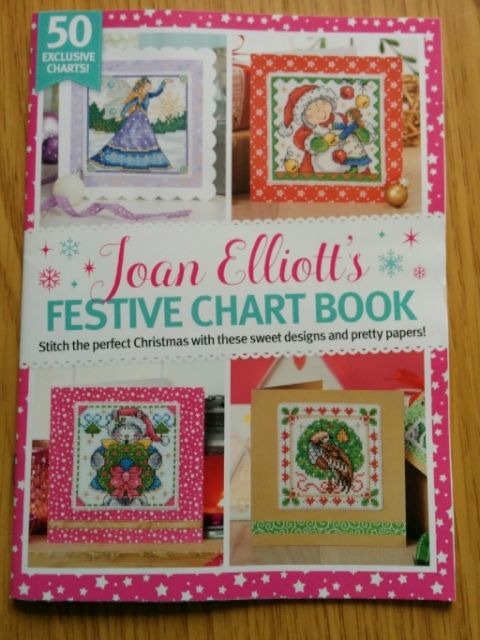 It also came with a book of mini-charts by Joan Elliot, there were a lot of nice things in the book, mini-charts, borders, charts for cards and gift tags.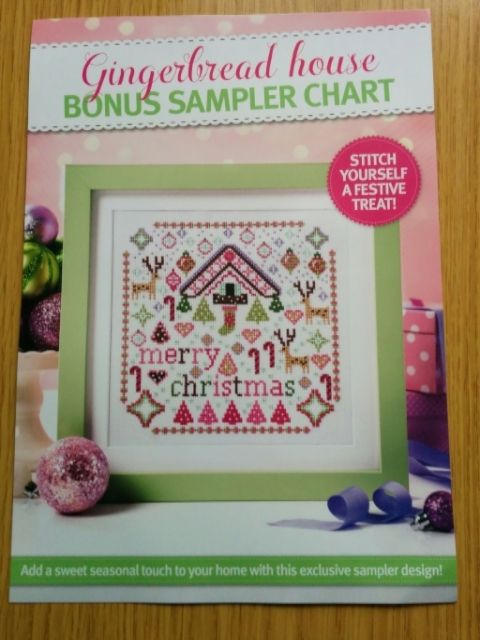 And then there was this bonus sampler, that if I made it I would have to change the colors. I don't think I could deal with hot pink Christmas tress.
If you have any ideas for posts you'd like to see in the future let me know!
Currently watching: Nine Lives of Chloe King. I made it to episode 6.
Currently reading:
The Leaky Battery Sets Sail (Adventures of the Steampunk Pirates) by Gareth Jones
A cute kids steampunk book that I found at the library.
If you'd like to request that I review a book please leave a comment. Include a brief description of the book, including which genre it is. Please also note if the book is an ARC and whether you are self-published.
Swagbucks
it is how I make money for amazon gift cards!