I've really lost track of my work time. Instead I'll try to remember to take a picture of my work every other day or so and post the pictures once a week.
Here it is at about 30ish hours or so.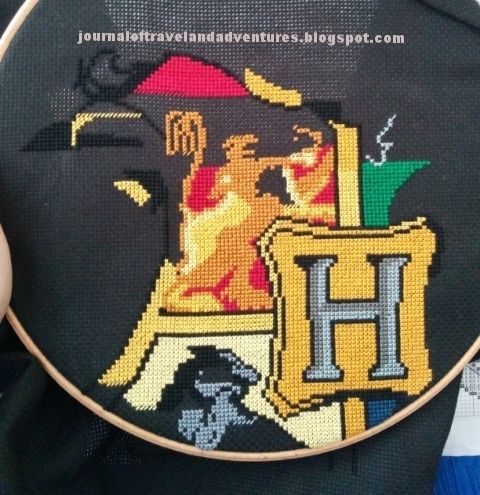 Here is the Gryffindor lion finished.
Here is the background and some of the frill done.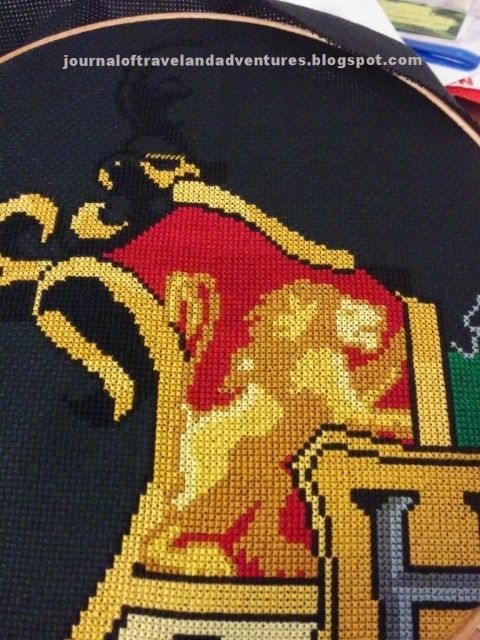 The top of the frill done.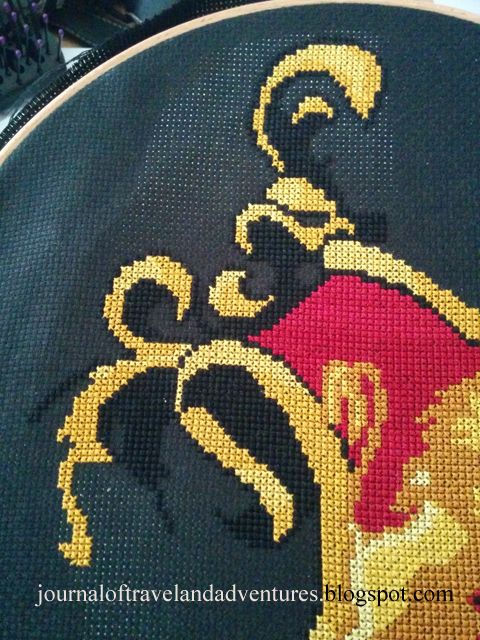 It was here that I noticed I had made a big mistake. The cloth was turned the wrong way! There was way too much finished that i didn't want to pull it all out and start over. I looked to see if I could modify the top, maybe replace the helm with a banner that said Hogwarts instead, but I didn't find anything that I liked. I did however find a page that describes joining two pieces of Aida together,
here
. I'm not sure if it will work for me, since Pellon is white, and my Aida is black, but I think it is worth giving it a try. That means though, that I am racing to finish the top of the crest, as much as I can, to test if this will work, before I finish any of the bottom of the crest. I think it is worth giving it a shot before having to start all over again, which would be very disheartening, especially since I've been dreaming of starting something different for a week or two now.
I made a little video that shows what a pain it is to cross stitch black floss onto black Aida.
If I can avoid it I will never use black floss on black Aida again.
Here is an example, can you find the missing stitch?
It is right here: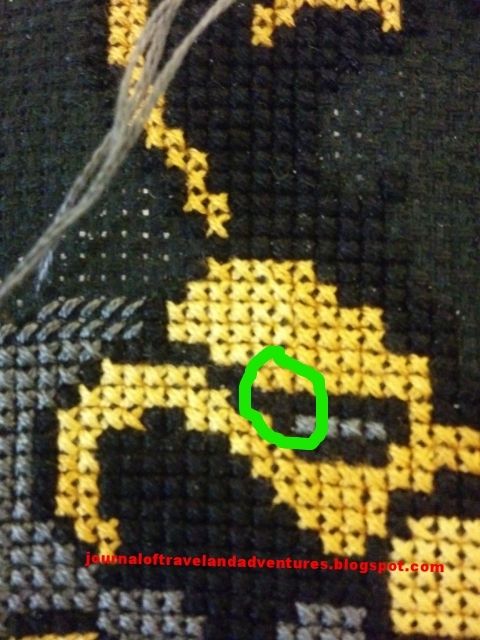 And then there was the time that I finished the thread on the needle and after I put new thread in I forgot to finish the row I was working on!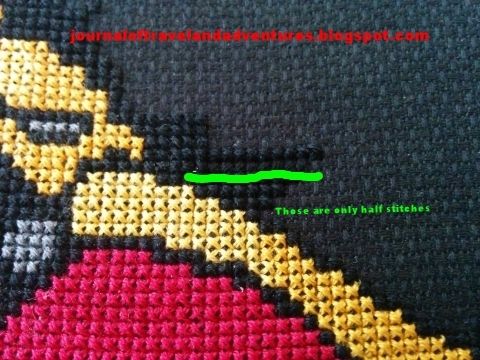 Although I don't want to collect too much stuff while we are living in the UK, and I gave away all of my cross stitch and other needle point stuff before we moved here!, I've already have stuff that I would like to make planned out in my head. I think once I've figured out if I'll be able to extend the cloth with the Pellon (cross your fingers for me) I'll take a short break from the Hogwarts crest and work on something different. Either something I have planned for my Mother, or something for tea towels.
You can see previous work on this at
Hogwarts Crest part 1
.
Hogwarts Crest part 2
.
If you have any ideas for posts you'd like to see in the future let me know!
Currently watching: Supernatural, Dracula and Once Upon a Time, all while I cross stitch.
Currently reading:
The Clockwork Scarab: A Stoker & Holmes Novel by Colleen Gleason
I'm only on chapter 1 of this book, so I can't say much about it. I really should write longer reviews of books once I finish them.
If you'd like to request that I review a book please leave a comment. Include a brief description of the book, including which genre it is. Please also note if the book is an ARC and whether you are self-published.
Swagbucks
it is how I make money for amazon gift cards!